Marie Jo Avero Low Waist Briefs in White
Avero is Marie Jo's flagship series. The straps in the form of daisies with a silvery heart will be the show-stealer in your outfits. Avero's versatility has won many women's hearts for many years. A range of styles, an original combination of check pattern and playful floral embroidery – and the very best comfort: that's the secret behind the success of this series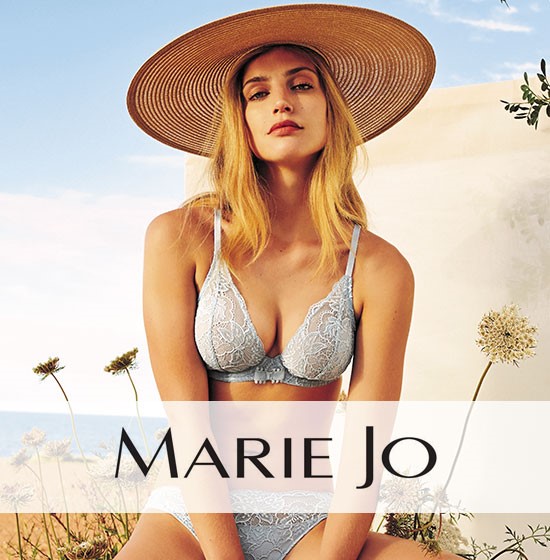 The Marie Jo Avero Low Waist Briefs in White.
Avero is Marie Jo's flagship series. The straps in the form of daisies with a silvery heart will be the show-stealer in your outfits. Avero's versatility has won many women's hearts for many years. A range of styles, an original combination of check pattern and playful floral embroidery – and the very best comfort: that's the secret behind the success of this series.
Did you know that more than one Avero is sold every minute? You really have to try this!
Playful low-rise briefs that are lower on the waist. Eye-catcher: the adorable floral embroidery! The back shows more of the buttocks than the Rio briefs. Playful style that only covers half the bottom. Finished with an elastic strip to ensure optimal comfort.
White is pure, fresh and unwaveringly optimistic! In white the daisies and checks are tone on tone.
SIZE CONVERSION CHART FOR BRAS
| | | | | | | | |
| --- | --- | --- | --- | --- | --- | --- | --- |
| UK size | 30 | 32 | 34 | 36 | 38 | 40 | 42 |
| EU size | 65 | 70 | 75 | 80 | 85 | 90 | 95 |
| FR size | 80 | 85 | 90 | 95 | 100 | 105 | 110 |
| US size | 30 | 32 | 34 | 36 | 38 | 40 | 42 |
| | | | | | | | | | |
| --- | --- | --- | --- | --- | --- | --- | --- | --- | --- |
| UK | A | B | C | D | E | F | G | H | I |
| EU | A | B | C | D | F | G | I | K | L |
| US | A | B | C | D | F/DDD | G | G/I | K | L |
SIZE CONVERSION CHART FOR BRIEFS
| | | | | | | |
| --- | --- | --- | --- | --- | --- | --- |
| | XS | S | M | L | XL | 2XL |
| UK size | 8 | 10 | 12 | 14 | 16 | 18 |
| EU size | 36 | 38 | 40 | 42 | 44 | 46 |
| US size | 4 | 6 | 8 | 10 | 12 | 14 |